How hard a time I've had so far!
So many hills I have climbed but almost 40 miles is too hard.
So many small towns I passed today.
I took DE TOUR because of the road construction.
And I got lost as soon as I entered Wheeling.
Anyway I finished at 6:20 pm just before the sunset.
Crossed the state line of West Virginia.
Tomorrow I'll be in Pensylvannia.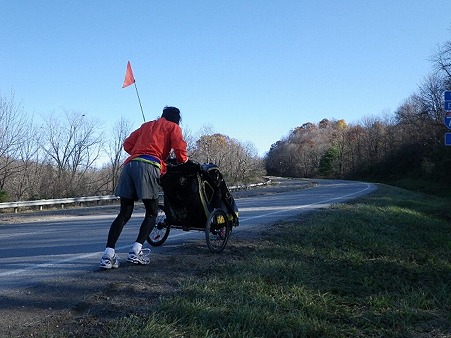 IMGP3325
posted by
(C)KAY.T
More photos on KAY'S BLOG
http://kaytaka.blog35.fc2.com/
PEACE RUN Official Site
http://www.peace-run.com/
*PEACE RUN on MEDIA
1) Columbia Missourian
http://www.columbiamissourian.com/stories/2011/10/10/running-man/
2) Arizona Daily Sun
http://azdailysun.com/sports/running/article_27cb0ef3-dccc-57b0-bbcd-6f1f32c459bb.html
3) Kansas Kingsman Daily News
http://art43.photozou.jp/pub/852/163852/photo/95337488_org.v1317861615.gif